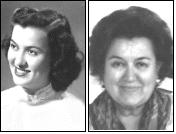 Myriam Boemer Monteiro de Castro Ramsey, 73, passed away on Tuesday, December 30th, 2003 at her home.She was born on December 8th, 1930 in Alem Paraiba, Minas Gerais, Brazil to Galdino Manuel Monteiro de Castro and Araci Boemer.She was the third of four children.
Myriam was baptized a member of the Church of Jesus Christ of Latter Day Saints in 1951, served a mission in Brazil and later moved to the United States in 1955 to attend college at Brigham Young University.While attending school, she met and married Jimmy D. Ramsey in February of 1956.
In 1960, after the birth of three of their four children, they moved to Brazil where they lived in the city of Bauru, in the state of Sao Paulo.While there, Myriam and Jim established the Ramsey Institute, an English school that taught to all ages, they also established a pre-school called the Ramsey Junior.This began a life-long love of teaching for Myriam.A fourth son was born while they lived in Brazil.They returned to the United States in 1966 and settled in Mableton, Georgia.
In 1969, the marriage dissolved and in 1970, Myriam began post graduate work at Georgia State University in order to provide a better opportunity to support her four sons.She received her Masters Degree in French Literature in 1972 and later received her Ph.D. in Romance Languages from the University of North Carolina in 1975. She was offered and accepted an Assistant Professorship at Brigham Young University and moved to Provo, Utah in the fall of 1975.In six short years, she achieved her goal of providing a home and education for her sons.She loved languages and history.She was fluent in Portuguese, English, Spanish, and French and conversant in Italian and German.
Myriam was preceded in death by her two brothers Celso and Flavio and her parents.She is survived by her sister, Vera Marcondes of Bauru, Brazil, her four sons Jim Marcos of Salt Lake City, Utah, Robert Douglas (Debbie) of Providence Utah, Paul Wesley (Christiane) of Provo, Utah, and John William Philip (Leslie) of Manassas Virginia, seven grandchildren and numerous cousins, nephews and nieces.
She lived her life for her family and had the greatest joy when they were in her house.During her life she sponsored and supported a number of her nieces, nephews, and cousins in the United States to learn English and experience a different culture.She not only loved being with her immediate and extended family, but also enjoyed the company of her many students.It was common for Myriam to hold end-of-the-semester parties in her home for her students, many of which were returned missionaries who came to sample her Brazilian cooking.They were particularly fond of her rice and beans.
We would like to thank all of those who loved and supported her throughout her life, particularly the health care providers who gave her loving care at the end of her life.Myriam touched a number of lives with her intellect and giving nature, and in turn was supported and loved by those she came in contact with.
Funeral services will be held at the Oak Hills LDS 7th Ward Chapel, 1038 North 1200 East, Provo, Utah on Saturday, January 3rd, 2004 at 11:00 a.m.Friends may call at the ward chapel one hour prior to services.Interment will be in the East Lawn Memorial Hills Cemetery under the direction on Berg Mortuary, Provo, Utah.